Employee recognition is essential to drive employee engagement. Rewards and recognition programs are the building blocks of an employee engagement strategy.
Employee Recognition
For a recognition program to not just survive, but flourish, the leadership and management need to have conviction in the belief that each employee brings in unique value addition.
Within the kinds of recognition, some help in boosting short-term motivation while others bolster long-term commitment. Leaders need to learn to identify the mix of both short-term and long-term needs and navigate them to be able to motivate employees into action. Both of these needs have to be met through a strong culture of recognition.
Types of recognition
1. Structured
This falls under the traditional approach and takes the top-down approach with managers or senior leaders offering gratitude to employees. This is termed as structured because these events occur in formal or ceremonial programs. Within the paradigm of a structured employee reward program, this ritual is expected and happens at predictable times. This serves the additional purpose of being inclusive and open to all employees.
Structured recognition makes employees feel appreciated and valued. Celebrating work anniversaries, for instance, is a good way to demonstrate this.
Some other examples include:
Employee of the Month
Yearly or quarterly reviews
Years of Service Awards
Top Performance Awards
Structured programs are essential. They provide incentives for employees to work towards a goal and be recognized and appreciated for the same. For instance, receiving a gift commemorating the service anniversary.
However, the major disadvantage of these programs is they are infrequent. Another disadvantage is that structured programs are often highly generic and template-based. It is also a very common practice for leaders and management to give a blanket "thank you" with no personalization. This rarely celebrates workers for specific achievements or skills.
2. Unstructured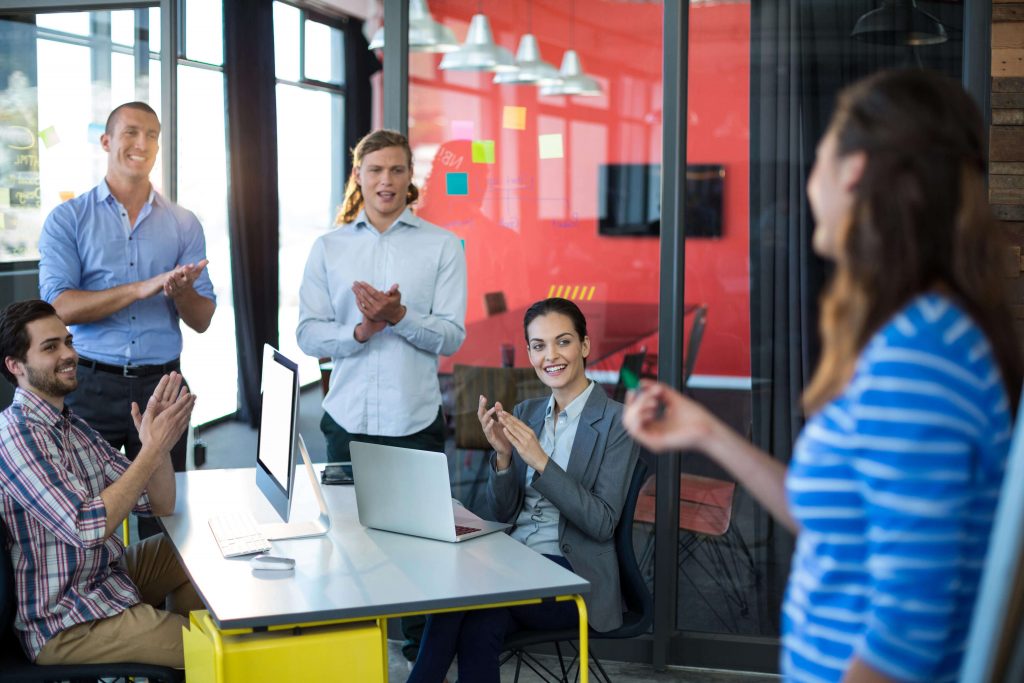 This is a relatively novel concept but is rapidly becoming a popular employee recognition method. Organizations today are more in tune with the needs of employees and the importance of mental health, and emotional security. This has forced organizations to consider the importance of regular praise for employees to feel valued.
Within unstructured recognition and reward programs, the management and leadership intentionally create space for spontaneous and heartfelt gestures of appreciation like:
Praise and/or appreciation is not just limited to managers and employees. Team members, colleagues, and peers are encouraged to offer appreciation and recognition; not just for the person's outpt or productivity, but the value addition they bring to the team.
Unstructured recognition is very adaptable, capable of transforming to suit the needs and constraints at the time. A good example is an email recognizing the week's top performers and or a newsletter appreciating employees' hobbies and their talents.
The end goal of an unstructured program is to step in and fill in the gaps left by the structured program. This is done so that employees feel consistently valued and appreciated.
Some examples include:
Peer-to-Peer recognition
Gamified recognition
Celebrations of important life events
Unstructured recognition is necessary as they keep the focus on personalization and spontaneity underlying appreciation. Unplanned, meaningful praise from peers and supervisors helps boost everyday morale. The disadvantage here is the amount of flexibility.
Offering employees too much leeway organization impromptu programs for recognition may result in them taking advantage of the program. Additionally, solely focussing on unstructured recognition may lead to employees offering praise and appreciation to just their friends resulting in an inherent bias. However, if the program is thoughtfully managed, misuse can be avoided and prevented.
Why is employee recognition important?
It is essential to recall that the main reason for recognizing the contribution of employees is not profit. The focus here is to make employees feel fulfilled and valued.
Focussing exclusively on profit as the main objective of a recognition program leads to it simply being a means to an end. This results in less thought and minimal effort being invested. In several organizations, recognition is often stale, impersonal, and generic. Such a program will likely have very less impact at best or a negative impact at worst.
Authentic appreciation is the baseline from where recognition needs to start.
Demonstrating Appreciation
Communication
A good benchmark of appreciation and recognition is colleagues communicating respect and value for team members and their colleagues. Appreciation is about being able to see someone for the value they bring to the team, and not just for their performance and productivity metrics.
Employees do not want to be viewed as nameless cogs in a large machine whose value addition is only based on the profit they brought in. Appreciation needs to be about recognizing employees as people with unique abilities, skills, and traits. It boils down to making the employee feel seen and special.
Showing employees why what they do is essential
Having uncertainty about the job leads to the feeling of disconnect from work. When doubt creeps into an employee's mind over their supposed value addition or lack thereof of gives rise to feelings of detachment.
This holds true when working in large organizations with employees numbering over several thousand. This fosters a cog-in-the-wheel mindset which isn't very healthy. It is important, especially in such cases, to take employee recognition seriously. Everyone's role is essential. After all, the finer details are what makeup everything in the grand scheme of things.
However, bogged down in the daily grind, employees often zone out and lose track of their individual contributions and how it works towards the team and/or organizational goal. This is where recognition is important as it allows employees zoom out and reminds them of the value addition they bring, why their work matters, and how they as a person and team member make a difference in the bigger picture. Ultimately, this helps them stay more connected and satisfied with their work.
Creating a collaborative environment
When an employee knows that they can trust their colleagues, it's a great feeling. However, a toxic work environment with the team always in competition, or worse, secretly working against each other.
Such an environment leaves employees feeling stressed, miserable, and burnt out. Employee recognition helps people come together from a place of respect and support rather than thinking the others are out to get them. This fosters a workplace that is warm, respectful, friendly, and collaborative.
Zaggle Propel
Having a strong reward and recognition program helps in organizational growth while boosting morale and making employees feel valued. Zaggle Propel is an easy to use platform that works towards building and strengthening engagement for employees, consumers, and channel partners.
With a point-based reward system, customizable metrics, and a real-time dashboard Zaggle Propel simplifies the reward and recognition system. With an extensive catalogue for redemption, Zaggle Propel provides over 100 different gift card brands across various categories with new brands being added to the catalogue every month.
Please reach out to us in case of any queries.