All relationships have an emotional element, whether it is between people, businesses, or people and businesses. A business relationship with customers is built over time, is fostered by experiences along the customers' journey with many touchpoints either physically or online. This relationship is based on expectations and is strengthened by frequent interactions.
How is this crisis affecting the Customer Experience (CX)?
During the crisis, a primary metric to measure the customer experience will be how the businesses deliver experiences and services with increased empathy and concern to meet the customers' new needs. It is a perfect time for customer experience (CX) teams to position themselves at the forefront for long-term shifts in consumer behavior that result from this crisis. Keeping a real-time pulse on changing customer preferences and rapidly innovating to re-design and re-define their journey will play a key role in becoming a considerate brand. Customers serving teams are working from home, putting additional pressure on their ability to respond to customers effectively, which calls for more learning and adapting.
All customers have had to modify their behavior, it is estimated that 30% of customers have revised their regular expenses and bills, with the intention of reducing them.
Creative thinking and new tools can address customers' acute needs today and forge stronger bonding between brands and people in the post-COVID-19 era.
Ways and Means of Managing Customer Experience
This lockdown had rapidly altered the consumer expectations from the brands, thereby having an effect on customer perception of different brands in different ways.
In these difficult times, it is not the brands with the best price, the best product, or the best marketing campaign that have an advantage but rather the brands those exhibit emotional intelligence, honesty, and empathy are the ones that can create a connection with consumers. People or customers want to be understood and are extremely sensitive to the tone and motive during this crisis. So messaging and positioning of the brand is most crucial as this further translates to customer trust and loyalty.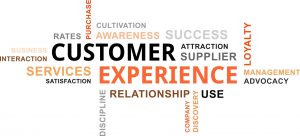 Focus on empathy and connection
Customer Experience during the COVID-19 crisis is all about Empathetic engagement. Showing true empathy calls for brands to reach out to customers and understand their distress and worries.
Understand that now is not a time for selling but it is the time to be humane. To that end, Emotional Intelligence is a good skill that companies should rely on as the COVID-19 crisis continues to affect the client base. The mantra for the companies should be
"Increased sense of social responsibility and decreased focus on sales"
Doing everything in your power to protect and serve the needy will make the customers more forgiving when mistakes occur and will be more loyal to the brand.
Informing right on time:
It's good to communicate with customers and provide them with all the information they need for being updated. A personalized daily communication will have a huge positive impact on the customer. Communicating what the brand does to ensure a safe service or experience in physical locations can gain confidence.
Attitudes and perceptions will change very quickly, so real-time monitoring and reporting will be essential to build customer confidence and trust.
Optimize the mobile experience to be more humane:
Being at home is driving smartphone users to an unmeasurable extent across all the generations. It is shown that 70% of people worldwide say they spend much more time using their smartphone since the COVID-19 crisis began & 80% in the case of Generation Z.
This should be taken as an opportunity to make the Customer Experience on smartphones as seamless as possible for a more loyal customer in the future.
Improve digital marketing:
The online world has become a good opportunity to reach the customer through various sources like entertainment, infotainment, etc. Instead of trying to boost sales, it would be a good time to increase and improve brand identity in the face of customers. Previously, it was common to send an email once a month to inform about special offers, events, or news, but with changing times the frequency with which brands communicate with their contacts has to change so that they remain in their consideration set.
A few ways and means you brands can try is to switch from a monthly newsletter to a weekly, share about how they can keep healthy staying at home, positive reaffirmations and thought leadership articles. This is the perfect time to interact with these customers, talk to them, and listen to their feedback.
COVID-19 is not going to disappear anytime soon and the problems that it had brought such as unemployment, low consumer demand and many more may last for years. This is the time for businesses to proactively engage their customers, even if they have not yet begun.
Brands who understand their customers are bound to gain a trustworthy reputation and will have long-term benefits.